Big Latch On Jax 2020
Saturday, August 1st, 2020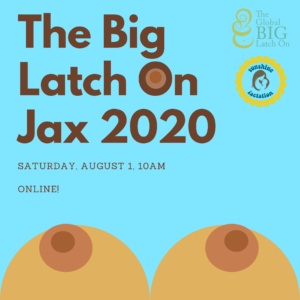 Global Big Latch On events take place at registered locations around the world, where people gather together to breastfeed and offer peer support to each other. Their friends, family and community join this celebration to promote and support breastfeeding. Volunteers from within the community host each location, hosting a Global Big Latch On event creates a lasting support network for the community.
I've been proudly hosting Big Latch On events since 2011. Three kids, two states and a US territory, and lots of amazing parents and babies!
The Global Big Latch On takes place annually over three days during World Breastfeeding Week (1st – 7th August), it includes in person locations and virtual attendance. Our other World Breastfeeding Week Celebrations include Working Wednesday and Express Yourself. As a worldwide peer support and community development event, it aims to strengthen national and global support for breastfeeding and to improve the health of children and women around the world.
Join The Big Latch On Jax 2020
This year, due to the global SARS-COV2 pandemic, the Global Big Latch On is completely virtual.
This means YAY no trying to pack a diaper bag and make it out the door in time to be counted! I will miss the hugs and watching the children play, but thankfully we can still get together online and celebrate how incredible breastfeeding and breastmilk are (and celebrate YOU and your baby!)
To sign up for The Big Latch On Jax 2020, you'll need to fill out a super-quick (I promise!) form. This will be used to contact you with the virtual location of the event.
All participants will receive an email confirmation for the event, along with a calendar reminder, on Friday, so you don't forget! Click here to add it to your calendar.
Then, hop online at 10am Saturday morning with your coffee and baby and join us for a quick intro, and The Latch happens at 10:30am prompt, local time.
'Latching' includes: direct latching at the breast, using a supplemental nursing system or nipple shield, expressing milk by hand or pump, and feeding your child breastmilk via an alternative method. Yes, EP mamas, you can join too <3
Afterward I'll be available to answer breastfeeding and parenting questions and share resources for about thirty minutes.
See you Saturday ♥️